Use Canva To Become Social Media Designer in 5 mins like a Pro (Canva Pro)
Canva Introduction
Canva is a all-in-one design platform build with alot of pre-set template and with the dimension kits for different social meia platform, now you do not need to handle complex panel with Canva!
Canva is founded by Australian Entreprenuer Melanie Perkins as a startup in 2011, it's now one of the few unicorn start-up that are profitable
Nowadays if you want to build your own website, social media platform such as Facebook, Instagram, Twitter, YouTube, or want to spread information and idea in graphical way, with no doubt you need to propagate by turning the message into a visual advantage way. Thus you need to be a designer for your own company or inevitably to paid for hiring a graphic designer to help you out.
Graphic is a construction of visual abstract concept to match content and dialogue creation, currently you also need to have the computer software skills to master different effect on the screen such as Adobe Photoshop, Illustrator etc. A great one is able to communicate via the screen or monitor to reveal the product or concept the owner want to deliver, as most of the time in commercial world, you only have 2 seconds to grasp the attention, we call it Golden moment. For a self-running blog, like WorkOOH!, we may budgeted a heaps amount of resource to get the professional designer for the output, thus we hope there are convenience tools and app or low budget option to produce a high quality artwork by a amateur's (ourselves). Therefore I am going to share a good application which my team have been used for years and it's come with a wide range of template and the dimension fit for most of the social media platform which are great for the start-up or new business owner.
How to making a graphic artwork in 5 minutes ?
The internet is now very advance and a lot of Software as a Service (SAAS) can offer you a helping hand, I encounter few platform which can help us creating our own design work they are Canva, Picochart, Venngage, cooltext etc. They are suitable for different level of user to  make their flash text, graphic, anime and video editing.
One of the amazing thing that the internet are now full of resource and like a mining base, you can pick up the graphic design online and maybe refresh a skills and gear up another career stream in it.
I guess you might thinking that you are already engage in a full-time job or study hard in university, and some need to take care of the housework and children to take care and more and more. In addition, you don't have extra budget to spend for books, material and learning classes.
Believe me, it's all just a once off hurdle and the burden it only lay in your thought. Once you twist your mind and found a way out, all those excuse will be gone and a chance to reborn from now on.
This page contains of affiliate links and you can join the platform free for the basic tools plus tutorial training, only paid when you are look for advance option or build up  a team.
These graphic design platforms are 100% free.
After use of the aforementioned tools, I would recommend Canva which Canva provide web version on desktop and also App version for mobile IOS & Andriod.
In the interface of Canva, everything tend to simple and easy to follow. They offer over 200,000+ template on different occasion, festive and celebration and pre-define dimension  suit for different social media platform. It's powerful and making user and new hand easy to catch up and to start the design work promptly.
Register now

with WorkOOH! you can enjoy a extra credit for premium photos, icon or illustration, the basic account are free and already very useful to practice to design for your own masterpiece and gear up your skills on visual design. Start as early as you need and start to earn from design anywhere anytime fit for you.
What else you can make via Canva: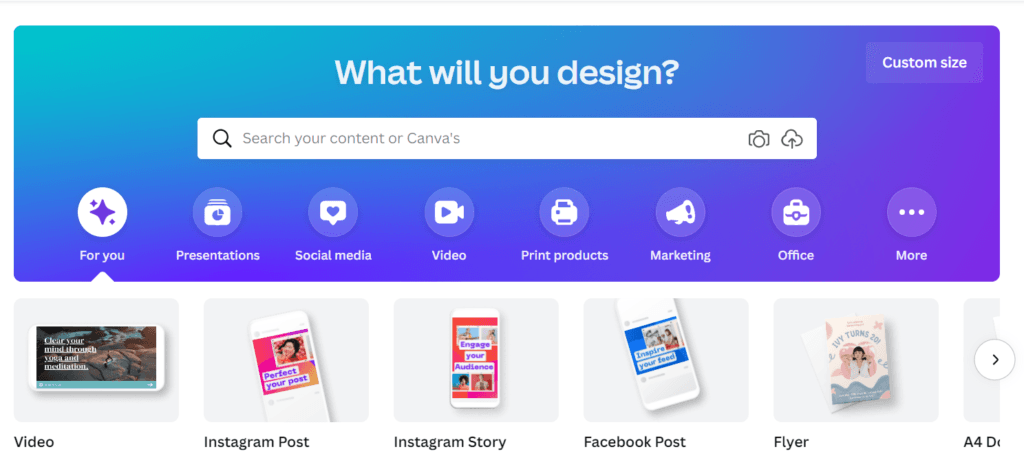 Poster
Logo
Infographic
Flyers
Video
IG Story
Resume
Business Card
Book Cover
Desktop Wallpaper
T-Shirt
Certificate
Calendar
Newsletter
Many type of items would fit most of your business or website needs.
Download Canva
Windows – Join now
Andriod – Google Play
IOS – App Store
We recommend you to start with the website version which have the most comprehensive function.
Most convenient way is to sign up with Google account, Apple ID or Facebook.
Let's start the design with Canva !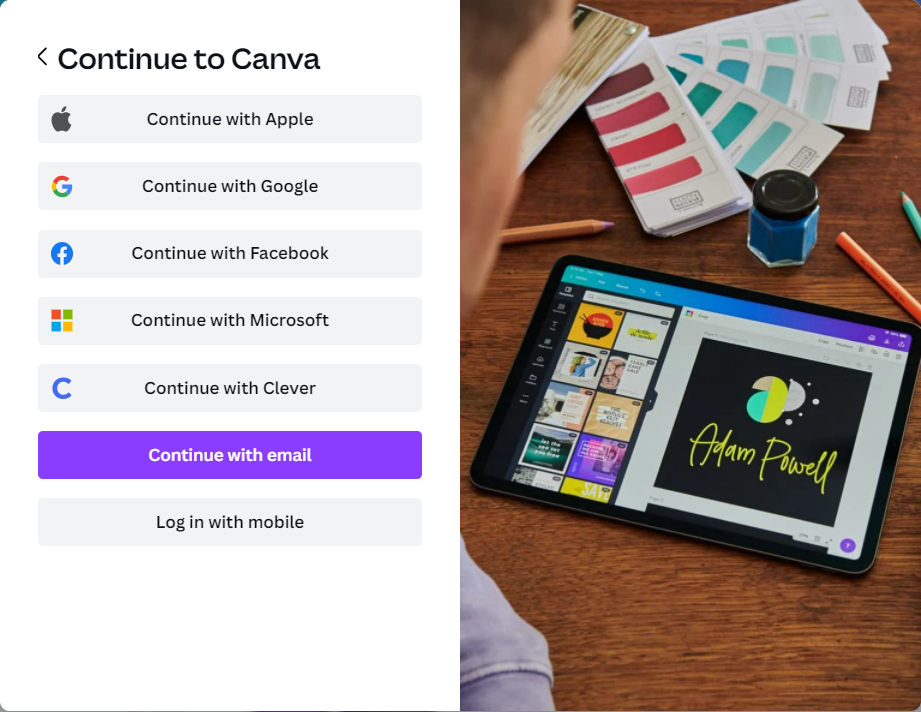 Simple and clear layout
After register and login you can find a simple and direct layout, it's different from other complex design software and you hardly able to understand the terminology and jargon. You can start your design with Canva now !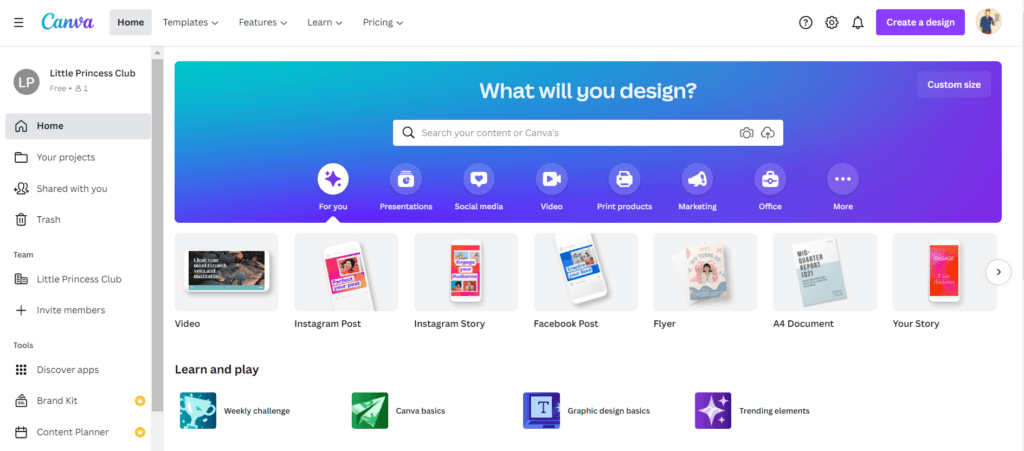 Pre-set template you would always use
Press the template button above and you would find the pre-define layout for most common social media platform, such as Instrgram, Facebook, YouTube, Pinterest etc. Canva have prepare the most suitable dimension for you to fit different social media requirement for the best upload format.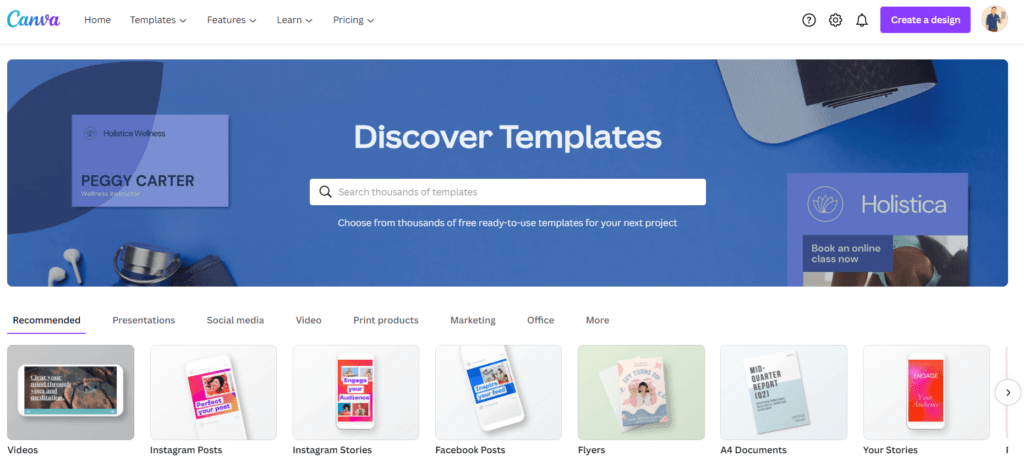 Canva is more than a graphic design hub
Sometimes, there are many ideas in your mind but it's hard to explain them in words, and good images tend to be quick to understand more complex things. So sometimes we use Canva to design a card that shows how important we are to family, lover or friend.
Using Canva to create community photos, help us connect more friends, create more influence, and really let design do our lives.
These are the tools that help us communicate through design and the world, whether you need the software or not, you need a stronger expression tool, and Canva is the best tool, and there's only one that doesn't.
---
Recent Blog Post