Best online survey to earn extra $2000 income
Get quick money part-time at home?
Best online survey to earn extra $2000 income
What is ySense ?
ySense is a Get-to-Pay platform where you could earn from completing survey, task or evening shopping.
Questionnaire is the good suit one for work from home
Want to get money through part-time jobs? The most ideal is to work at home to save transportation time and money. Regardless of men, women, young or old, students from work or school, everyone can make money by completing different questionnaires. The length of the questionnaire is proportional to the return. It takes an average of 5 minutes to 25. Minutes to complete, depending on the survey settings of different companies. Check the registration process below to see if this method of making money is what you want!
ySense provides many different types of online paid questionnaire surveys. Respondents can participate in market research such as different questionnaire surveys and product tests. Participants should write down their thoughts and opinions on the survey questions in the questionnaire. Most questionnaires are multiple-choice questions, and they only need to choose the appropriate answer from the question.
Friends can use ySense to do different questionnaires to earn different authentic rewards or accumulate points to exchange for cash through Paypal, Payoneer or Gift Card.
What are the requirement to join ySense ?
Email
Computer
Payment Account
What are the payment option ?
Paypal
Payoneer
Gift Card (Amazon, Stream)
1. Register as user
Simply fill in your email and selected passoword, then press「Join Now」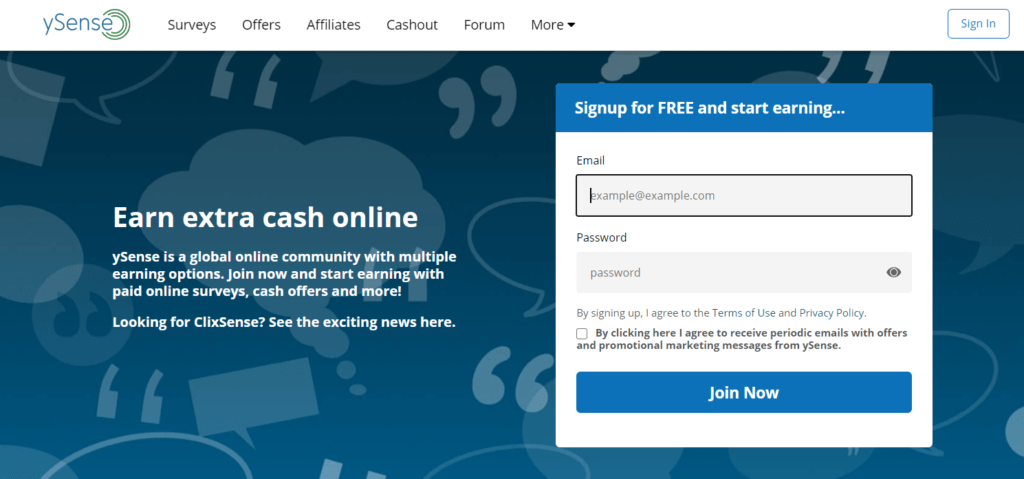 then you will recieve an confirmation email from ySense
2. Go to the registerd email and "activitate" the account for confirmation.
3. Fill in your basic personal information and setup the password.
As a survey agency, the personal profile are essential for them to conduct the analysis and study, therefore will ask a bit more from oneself.
4. Completed the registration process and can earn via questionnaire now
The questionnaire will have different points to earn according to the length of the questionnaire. There are very short ones that will give 20 points, and some longer will give 500 points. When you save a certain amount of points, you can consider redeeming local gift certificates or redeem cash through Paypal (Paypal will charge a handling fee).
You can also set a reminder for work, and send you an email notification whenever there is a new questionnaire available to participate in.
How do you make money on ySense ?
Finish the paid surveys
Accomplish the cash offers
Introduce new users to join ySense to earn via survey
A) Paid Survey
ySense have a wide range of survey for members to participate and earn cash. This is one of the favorite earn online option as a side hustle.
ySense provide the survey estimated time thus you can allocate your time base on their reference, like if you are going to take a 20mins travel or waiting friend to meet up, you might pick a 14-18 mins one to maximize your earning and optimize the time.
You can refer to below sniper and reference the survey opportunities for you.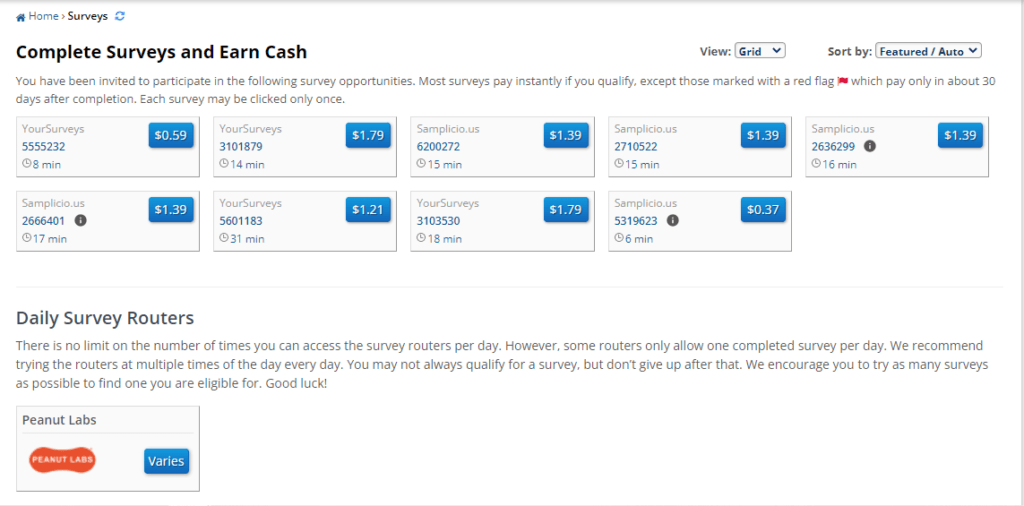 B) Cash Offer
ySense provide a wide range of cash offers or shopping experience, there are even have offer to try games and win cash, watching videos, register for websites, trial new mobile app etc.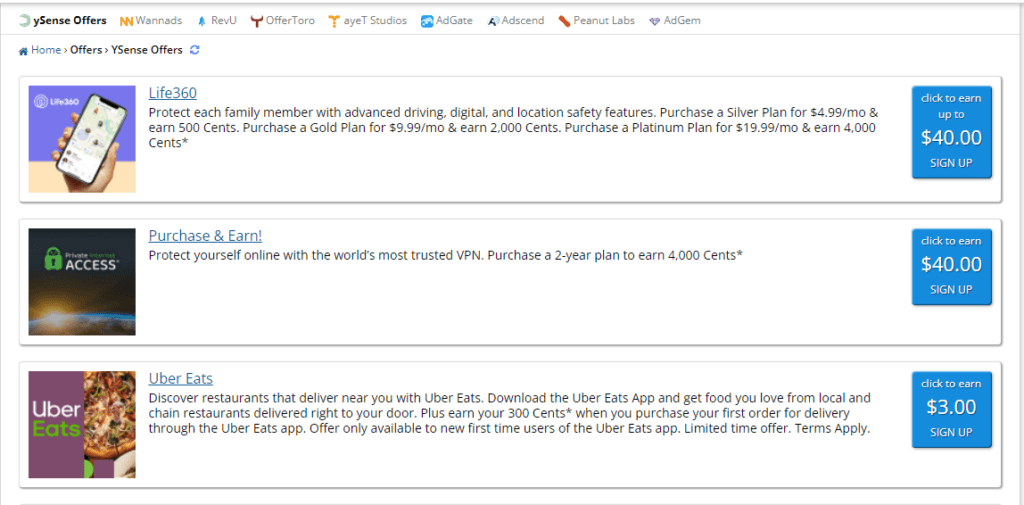 Cash offer can range upto $40-$60 rewards if you completed the task, when you completed the whole process the reward will credited to your ySense account.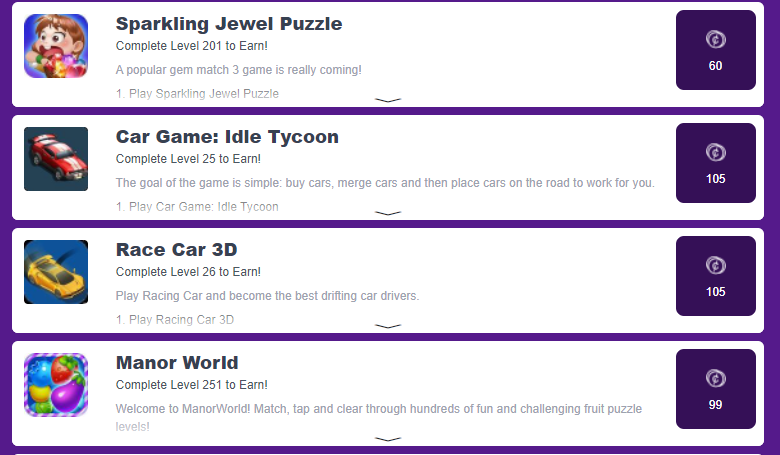 C) ySense Referral Program
You might share your experience of using ySense and introduce more registration thus build up a new income stream. For each referral successfully referred will make you $0.1-$0.3 commission, the range are depends on which country they originated. If the referee completed survey, referrer will gain 20% commission on top as well.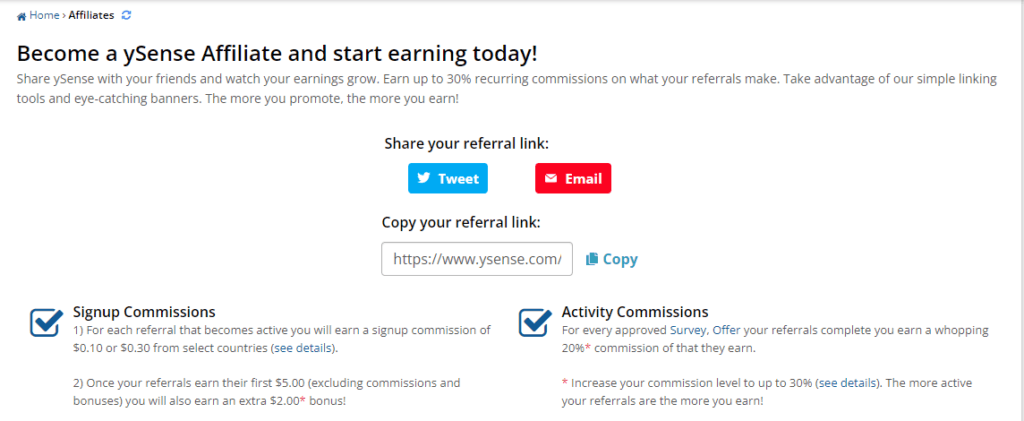 Tips to let you earn more from ySense
Daily Checklist Bonus
Follow the Daily Checklist Bonus table in ySense it will guide you how to scale up the earning of that days. It mainly are the task and offer they want you to focus on. By following the requirements, you'll earn a 12% bonus on top of the amount you've made for that day. It leverage your work-done with a jump !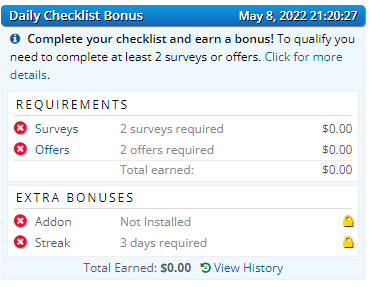 Payout Option
ySense have a range of cashout option, i.e. Amazon gift-card, Payoneer, PayPal, Skrill, Steam, Reward Link Italy, Zalando. For me, I like to receive by PayPal and it have a minimum draw out starting from USD $10. Then I can without the money back to my local account.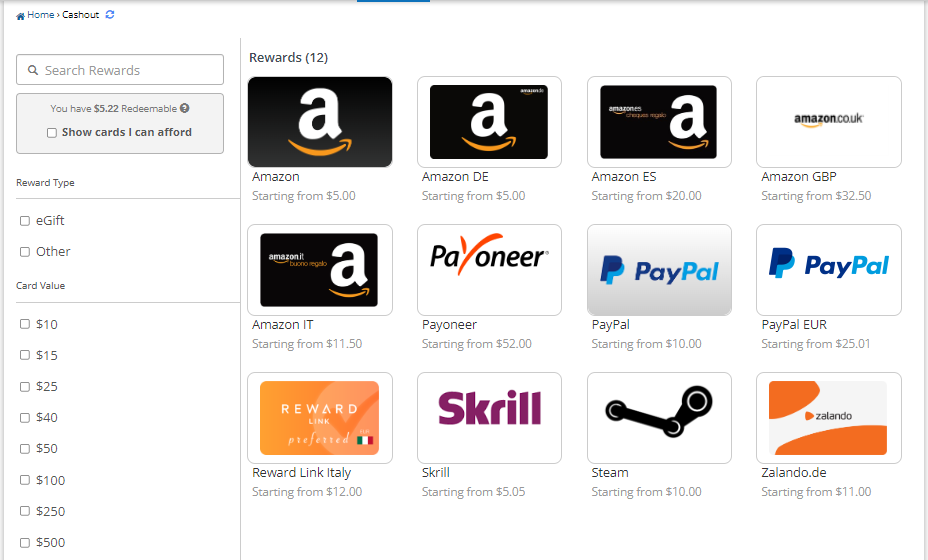 Conclusion
Hope the above information you would found useful and helps you to start earning money via online and especially through online survey which can be conducted anytime anywhere. Join ySense by the link below if you want to earn now.